Dear Prayer Partners,
A couple months back I told you about our commitment to pray for the youth here at Eagle Village during their last time at Chapel. These have been powerful times, but recently there has been a shift in how it happens. It certainly wasn't something that I planned or organized.
When we gather around, lay hands on, and pray for a resident on his or her last day at Chapel, I have always asked a couple of staff to pray out loud. And then, a few weeks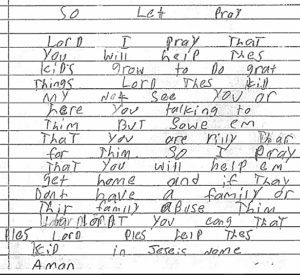 ago, during that time of prayer, a resident spoke up and prayed for her peer. Then another. And another.
And then, just a couple of weeks ago, one young man came with a prepared message to his peers on his last day of Chapel, and a prayer he had written for all of them. It was a moment that touched many. Here is his prayer:
"Lord I pray that you will help these kids grow to do great things.  Lord these kids may not see you or hear you talking to them but show them that you are really there for them.   So I pray that you will help them get home and if they don't have a family or their family abuses them, Lord You can change that.  Please Lord, please help these kids.  In Jesus' name, Amen."
For me, it has been a much-needed reminder that we should pray not only for God to work in the lives of those we serve… but also through them. And, so now, I'm praying ever more boldly that God would help "these kids" to "grow to do great things."
I hope you will to.
In Christ,


Pastor Eric Woods