It can be hard to know how to make a difference.  In a world with so many needs, where do you start?  How do you help, especially if your time is limited?
At Eagle Village, we know of a few ways just one person can make a big impact.  Pick one of these to try, or, if you are feeling particularly awesome, try for all five!
1. Donate a skill
Do you know how to cook, garden, or sew?  Do you know how to change a tire or balance a checkbook?  Do you like to do hair or photography?  You could take a couple of hours or half a day to share these skills with our kids.
Many of the kids we serve haven't been taught basic life skills yet.  Some have never learned how to boil water, put on makeup, or how to monitor finances.  By donating your skill, you can teach these kids something useful for their future while also demonstrating that adults in the world care about them.  Your time shows these kids that they do indeed have value.
2. Purchase something off our wish list
If you are thinking, I don't have time to stop by for even two hours, that is ok!  You can still make a difference!  Visit our wish list to find items we would like to have for our kids.  You can purchase them and drop them off at our campus in Hersey, or you can even have them shipped directly to us.
Bonus tip- if you shop off Amazon, use this link (smile.amazon.com/ch/38-1868217) and choose Eagle Village, Inc in Hersey, MI.  Eligible purchases made through AmazonSmile earn us additional donations.
3. Start a Facebook Fundraiser
But, I want to do something bigger.  I just don't have the time.
No problem.
Another way you can help is by starting a Facebook Fundraiser.  This helps us to not only raise more donation dollars, but it also helps to increase awareness and spread the news of the work we are doing through your social network.
Facebook Fundraisers are easy to start and maintain- Facebook handles all of the money transactions.  All you need to do is start the fundraiser.  You can do this off of the Eagle Village page by clicking on "create a fundraiser" or by following these simple steps.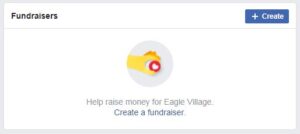 Another bonus tip- you can start these fundraisers at any time, but people are often able to raise more money when they tie the fundraiser to an event, such as a birthday or anniversary.  Fundraisers that ask people to donate $35 in honor of someone's 35th birthday or have a goal of $2,500 in honor of a 25th wedding anniversary tend to generate more participation.
4. Bring your friends
We've been around for 50 years, but we are still a well-kept secret.  Help us break that tradition by telling people about Eagle Village, sharing our information, or by bringing your friends to visit us on a tour or to volunteer.
When you get excited and passionate about a cause, it makes your friends want to know more.  The more people that know about Eagle Village, the more people we can help.
5. Invite us to speak
Unsure of what you'd say about Eagle Village?  We understand.  That's why you can also invite us to speak to people you know.
Are you a part of a rotary, service group, church, or just well connected in a community?  We'd love to speak to those you know, formally in front of a group or simply over a cup of coffee with your friends.  Just give us a call at 231-305-6512 to schedule a speaker.
Individuals United Together Make a Difference
 We know one person can make a difference because we've seen it happen over and over again in our 50 years of operation.  When one person steps forward to help, others come too.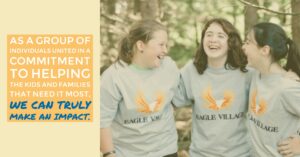 Below, hear our founders, Kermit and Jean Hainley, tell the story of how one man took Eagle Village from a good idea to an actual place.