Zoe is 19 and doing well.  She is enrolled at college, volunteers on weekends, and maintains healthy relationships with friends.
It is a far cry from where she was a few years ago.
A Teenager with a Bad Attitude
"She was running away from home, staying away from home, sneaking out of the house frequently, unbeknownst to us, she was cutting," Lisa, Zoe's mother recalls.
With low self-confidence, suicidal thoughts, and an overall negative attitude, Zoe started to dabble with drugs and alcohol.
"I wasn't having a good attitude towards life," Zoe says.  "I was not listening to my parents, I was just being… challenging.  I just wasn't doing good at life.  A lot of bad attitude, pretty much."
Her parents struggled with how best to deal with their teenage daughter until the day Zoe came to Eagle Village.  She was 15.
"Eagle Village really helped us when we reached a point where we felt, as a family, that we could no longer keep Zoe safe," Jay, Zoe's dad says.
Therapy Makes a Difference
Zoe tried multiple programs at Eagle Village, from month-long stays to full residential care.  In each program she participated in group therapy, family therapy, and facilitated family experiences to uncover underlying issues.
"Eagle Village presented an opportunity where Zoe could be safe and dig deep into what the issues were, guided by the staff," says Lisa.
While Zoe was the focus, the therapy and activities helped identify changes the whole family could make to better support her.  "They helped us to recognize what the other person would need and to affirm that in each individual," Lisa adds.
"[The programming] helped me interact with my family… it really gave me an opportunity to communicate with them, which communication is key in a relationship, so it really helped me not shut down when I was talking to them about things," Zoe says.  The staff and therapies made a big impact on her, but most of all it caused a change in her thought process.  "A big attitude change, I think, was what was a big key."
Stuck Like Glue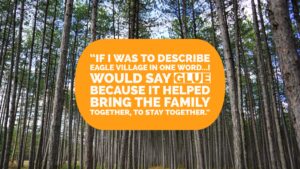 With each change in behavior and mindset, Zoe's self-confidence grew.  "My attitude when I first came here was I was mad and I didn't think that I should be here and I was just a very negative person," she says.  "And then when I left, I was a happy, upbeat person."
Zoe and her parents are still involved at Eagle Village though Zoe left over a year ago.  Lisa serves on the Eagle Village Program Committee and Zoe volunteers at Challenge Weekends, a good chance for her to gain experience for her future job.  "I'm going to school right now to be a social worker," she says, "because I really think that my story can help a lot of others that are struggling."
"If I was to describe Eagle Village in one word, this is kind of going to sound strange," says Jay.  "I would say glue, because it helped bring the family together, to stay together."
"They took care of us, as a family," adds Lisa.
Meet Zoe and her family in this video below: