What does it take to change?
Many of the residents at Eagle Village, and all of the staff at Eagle Village have had the opportunity to experience the Ropes Course. At twenty-four feet in the air, just standing still feels like a challenge to most people, and yet the Ropes Course challenges participants to climb, crawl, hang, swing, and balance through obstacles, toward the conclusion.
The Ropes Course experience concludes with the Step-Off. The Step-Off is a little plank like you might expect to find on a pirate ship.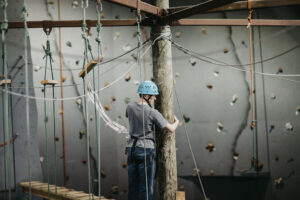 You stand twenty-four feet in the air, your toes hanging over the edge of the plank.  Heart pounding, vision clouding, focus diminishing. Most people look down at the floor, look at the facilitator on the ground holding the other end of the rope, and examine at the knot in the rope in front of them, just to make sure everything looks acceptable.
If you were standing on the Step-Off, at some point you must decide that you are going to Trust and Try. You decide to trust the rope and the facilitator. You decide to stop standing still and start trying. And in that moment, you muster all the courage you can, you take a deep breath, and then take a big step.
God wants us to change. He loves us where we are, but he doesn't want us to stay there forever. He wants us to change. And if we are going to change, then we need to Trust and Try.  We need to trust that God can change us, and we need to try our best to follow him. It takes both to make a Step-Off successful, and it takes both to change.

Pastor Chris DeMerell